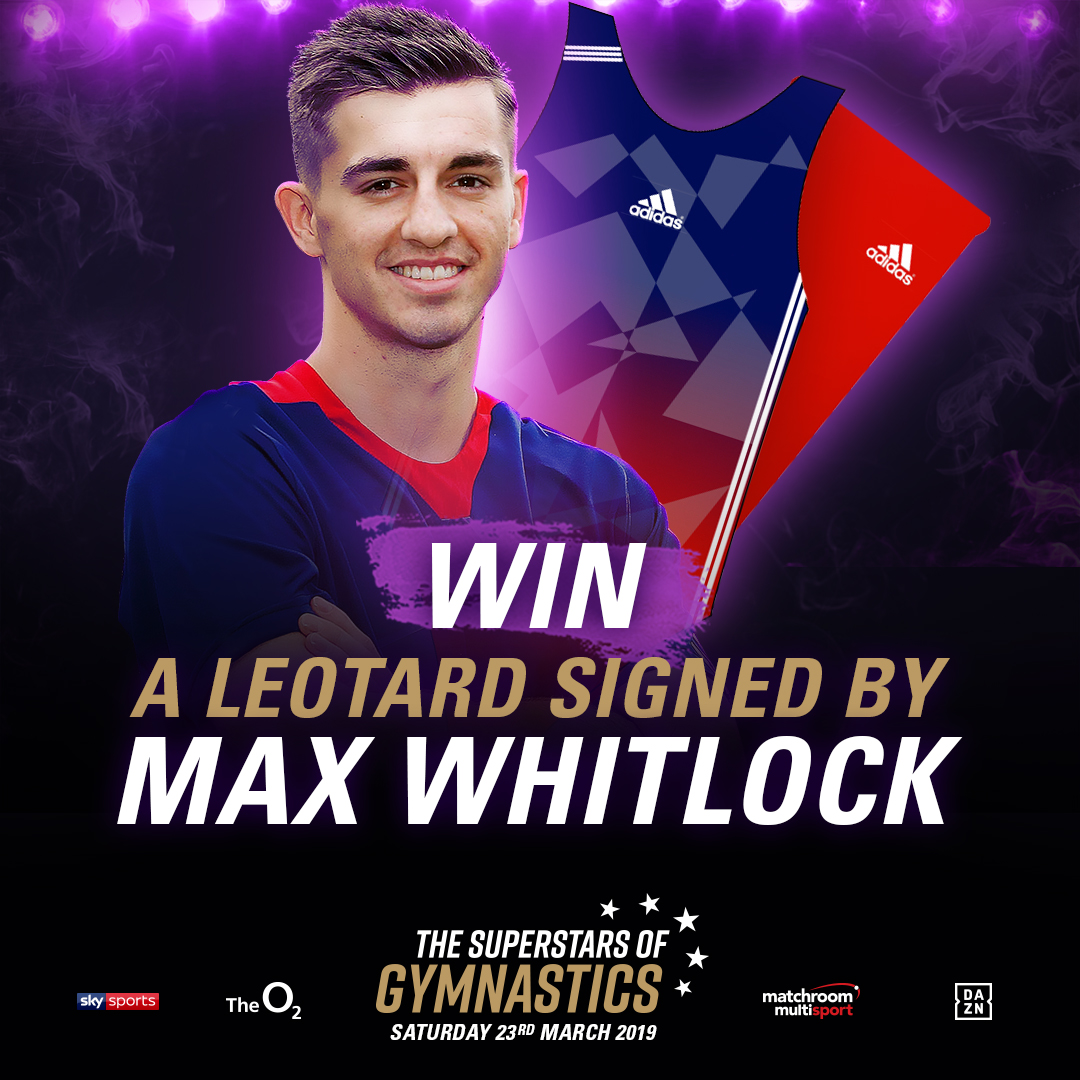 WIN! Max Whitlock Signed Leotard & Superstars of Gymnastics Tickets
With less than two weeks to go until the Superstars of Gymnastics, Max Whitlock is giving away a signed Adidas Leotard to one lucky winner. Not only that, but the winner will receive four tickets for the Superstars of Gymnastics so that they can come to The O2 and collect their prize personally from Max!
To enter, head to Max Whitlock's social media pages and share his competition posts by midday on Friday, March 15.
Terms & Conditions: Max Whitlock Signed Leotard prize draw
1. The entry instructions form part of these rules.
2. Matchroom Sport Ltd reserve the right to alter, amend or withdraw the Prize Draw without notice.
3. Promoter: Matchroom Sport Ltd, Mascalls Lane, Brentwood, Essex, CM14 5LJ 01277 359900
4. Each entrant shall be permitted to submit entry per social media platform only.
5. Entries close at midday on Friday, March 15th 2019
6. In the event that the Promoter deems that an entrant has made an application(s) to enter the Prize Draw in bad faith or has performed any act in bad faith in relation to the Prize Draw, such entrant shall be excluded from the Prize Draw and therefore ineligible from winning the Prize, as defined below.
7. There is no purchase necessary for entry into this Prize Draw.
8. At the advertised closing date the promoter will draw one winner at random and notify the winners by direct message on social media platforms.
9. By entering the Prize Draw all persons consent to their details to be used by the Promoter, its associates and/or licensees without restriction in all media worldwide in perpetuity without any payment, reward, compensation or acknowledgement being owed to the person(s) featured in the content.
10. No alternative prize will be offered.
11. One prize is available of a leotard signed by Max Whitlock, with four tickets to the Superstars of Gymnastics at The O2, London on Saturday 23rd March. Travel & accommodation is not included
12. The design of the leotard is subject to change from that displayed in the promotional artwork for this competition
13. The competition will run across Twitter, Facebook and Instagram with all entrants placed into a hat and one winner selected from all entries
14. The prize is non-transferable. When the prize-winner has been contacted they must confirm at that time that he/she wishes to claim the prize.
15. In the event that for any reason whatsoever the winner does not take up the Prize by the time stipulated by the promoter, then such winning entrant shall be deemed to have forfeited his/her claim to such Prize and the Promoter shall not have any obligation to compensate the winning entrant in any way.
16. By entering the Prize Draw each entrant unreservedly agrees to these terms and conditions that govern the Prize Draw and the awarding of the Prizes.
17. By entering the Prize Draw each entrant agrees to release, discharge and hold harmless the promoter, its legal representatives, its affiliates, subsidiaries, agencies and their respective officers, directors, employees and agents, from any damages whatsoever, including any personal injury suffered or sustained in connection with the acceptance of the Prize.
18. It is a condition of entry that the prize-winner and his/her guest agree to be available for, and participate in, any reasonable public relations activity arranged by the Promoter. Your participation in the Prize Draw will be deemed to be your agreement for the Promoter to user your name, likeness or image for promotional purposes without the requirement for any additional payment to you and you expressly waive any claims relating against the promoter in this regard.
19. It is a condition of entry that the prize-winner and his/her guest agree to adhere to any specified etiquette (be it behavioural or dress) reasonably requested by the Promoter.
20. Entries not submitted in accordance with these rules, illegible, incomplete or altered will be disqualified.
21. The Promoter's decision is final and legally binding on all entrants and no correspondence will be entered into.
22. The winners' name will be disclosed to anyone who writes to the Promoter at the address above and published by the Promoter on social media platforms.
23. These terms and conditions and any matters relating hereto shall be governed by, and construed in accordance with English law and shall be subject to the exclusive jurisdiction of the Royal Courts of Justice, London
---