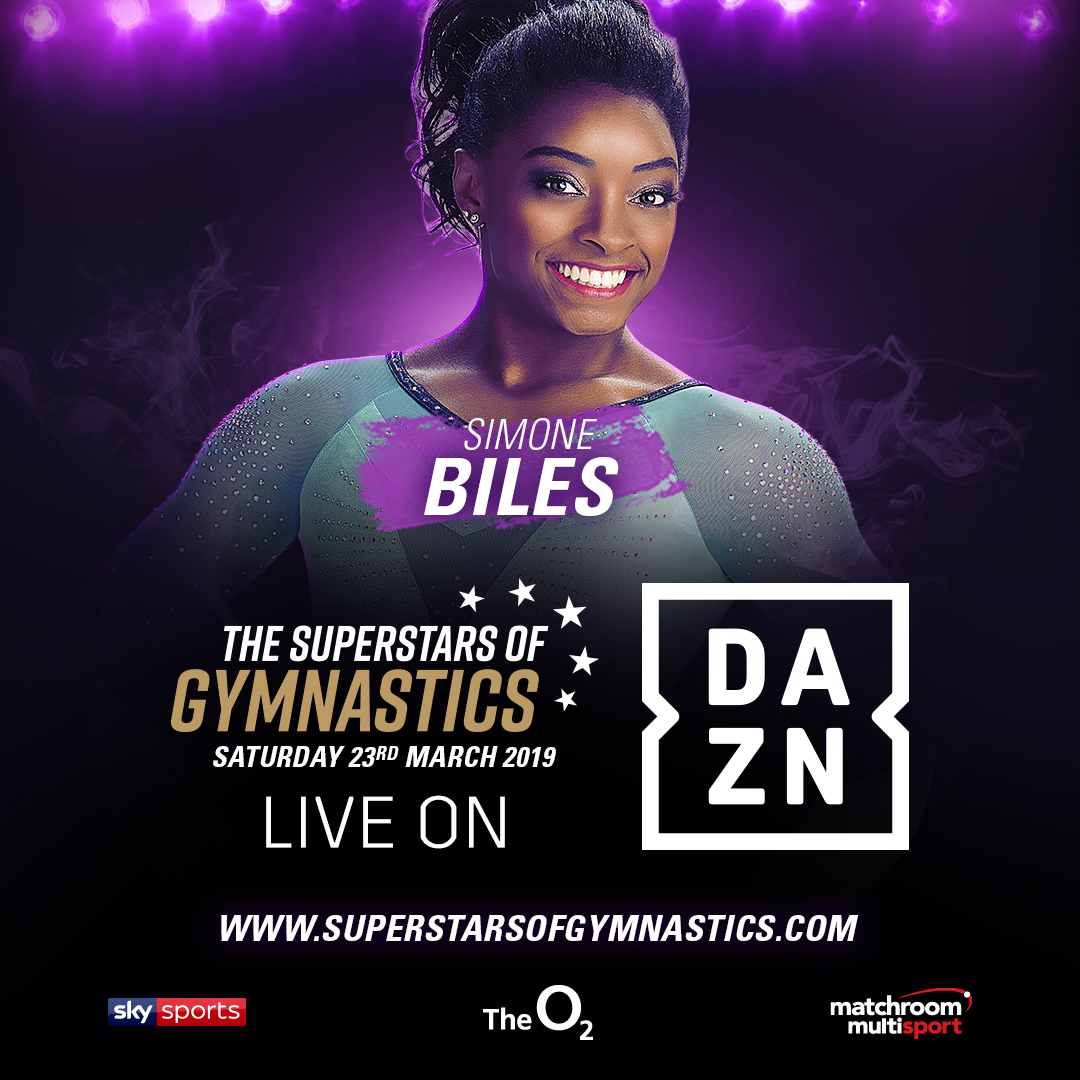 DAZN To Broadcast Superstars of Gymnastics Live In America
The Superstars of Gymnastics, a brand-new event featuring Simone Biles, will be broadcast live and exclusively on the global sports streaming platform DAZN in America on Saturday, March 23, Matchroom Multi Sport is pleased to announce.
Biles, who won four gold medals at the 2016 Olympics in Rio, heads the line-up for the Superstars of Gymnastics alongside Britain's double Olympic champion Max Whitlock. The major new showcase event will feature a raft of other high-profile athletes including including triple Commonwealth Games gold medallist Ellie Black of Canada and German trio Fabian Hambüchen, a gold medallist on horizontal bars at Rio 2016, double Olympic silver medallist Marcel Nguyen and four-time World Cup medallist Elisabeth Seitz.
As well as broadcasting the event live across America, DAZN will also show the Superstars of Gymnastics live in Canada, Germany, Austria, Switzerland, Italy and Japan.
Barry Hearn, Matchroom Sport Chairman, said: "The Superstars of Gymnastics is going to be an incredible showcase of the best gymnasts from around the world. This is gymnastics simplified with the best athletes performing their best routines.
"Simone Biles is a global megastar and we are thrilled to be bringing her fans live coverage of the Superstars of Gymnastics on DAZN. With Simone both performing and featuring on the judging panel she's going to have a busy day but we know how excited she is for this brand new event."
Biles, who won four Olympic Gold medals at Rio 2016, will open the show at the start of the afternoon session before taking her seat alongside fellow judges Whitlock, Amy Tickler and Laurent Landi.
With the exception of Biles and Whitlock's performances, routines will be judged by the all-star panel, who will also provide feedback. Each apparatus will have its own leaderboard with a winner per piece to be determined by the highest combined score.
Athletes have the freedom to devise and perform their own routines and judges will score out of 10 based on flair, creative choreography, execution and engagement with the live crowd at The O2.
The Superstars of Gymnastics will showcase an exhibition of the very best talent in gymnastics over two sessions live on Sky Sports at The O2, London.
---