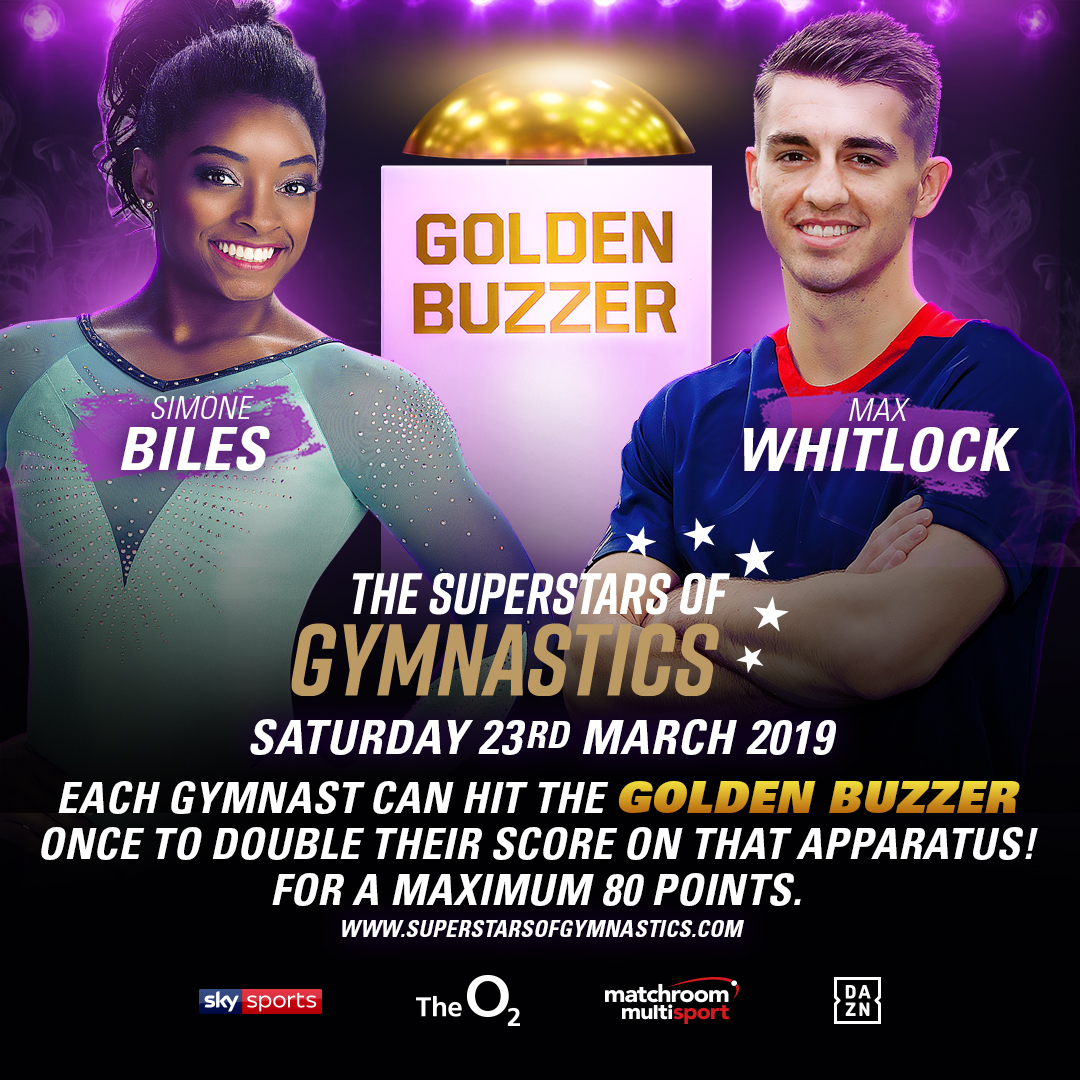 HILTON, LAGO, CASTRO & TARABINI COMPLETE SUPERSTARS OF GYMNASTICS LINE-UP
The line-up for the Superstars of Gymnastics is now complete after England's Halle Hilton and South American trio Ana Lago, Simona Castro and Ayelen Tarabini were all confirmed for the showcase event at The O2, London on Saturday, March 23rd.
Led by Simone Biles and Max Whitlock, the Superstars of Gymnastics will showcase an exhibition of the very best talent in gymnastics over two sessions at The O2. The all-star judging panel will rate each performance out of ten and gymnasts can now double their score for a maximum 80 points on one apparatus by hitting the Golden Buzzer before performing their routine.
Hilton, based at South Essex Gymnastics Club, is the final gymnast to be confirmed for the line-up. She took bronze in the junior team event at the European Championships in Glasgow last year and is looking forward to an opportunity to impress on a global stage in London later this month.
"I'm super excited that I will be taking part in the Superstars of Gymnastics," said Hilton. "There will be an amazing atmosphere at The O2 and I cannot wait to get there."
Also added to the line-up this week were South American gymnasts Lago, Castro and Tarabini. Lago is one of Mexico's most popular sports stars and counts Pan American Games gold among her major honours.
Castro became the first female Chilean gymnast to participate at the Olympics when she competed at London 2012 and will return to The O2 for the Superstars of Gymnastics. She'll be joined by another South American Games gold medallist in Argentina's Tarabini, who has won medals in major South American competitions on all apparatus.
With the exception of Biles and Whitlock's performances, routines will be judged by the all-star panel, who will also provide feedback. Each apparatus will have its own leaderboard with a winner per piece to be determined by the highest combined score.
Biles and Whitlock will perform during both the afternoon and evening show and will join Amy Tinkler and Laurent Landi on the judging panel.
Athletes have the freedom to devise and perform their own routines and judges will score out of 10 based on flair, creative choreography, execution and engagement with the live crowd at The O2.
The Superstars of Gymnastics will showcase an exhibition of the very best talent in gymnastics over two sessions live on Sky Sports at The O2, London. From Great Britain, James Hall, Danny Purvis, Dom Cunningham, Courtney Tulloch, Sam Oldham and Jay Thompson have all been confirmed.
The event also features a raft of international stars including Germany's Fabian Hambüchen, a gold medallist on horizontal bars at Rio 2016, triple Commonwealth Games gold medallist Ellie Black of Canada, double Olympic silver medallist Marcel Nguyen, three-time World Champion Oksana Chusovitine, four-time World Cup medallist Elisabeth Seitz, six-time Dutch national champion Casimir Schmidt and Jamaican international Danusia Francis.
Tickets for the Superstars of Gymnastics are on sale now via www.superstarsofgymnastics.com priced from £30 per session for adults with under-16s at half price. Discounted all-day tickets offering admission to both sessions are available from £48 per adult with family tickets (two adults and up to two children) available from £65 per session or £100 for an all-day ticket.
VIP packages are also available priced at £350 for adults and £250 for children. Platinum VIP packages include premium seating within the front three rows for both sessions and an exclusive VIP lounge offering complimentary beer, wine and soft drinks. For more information visit www.superstarsofgymnastics.com.
---