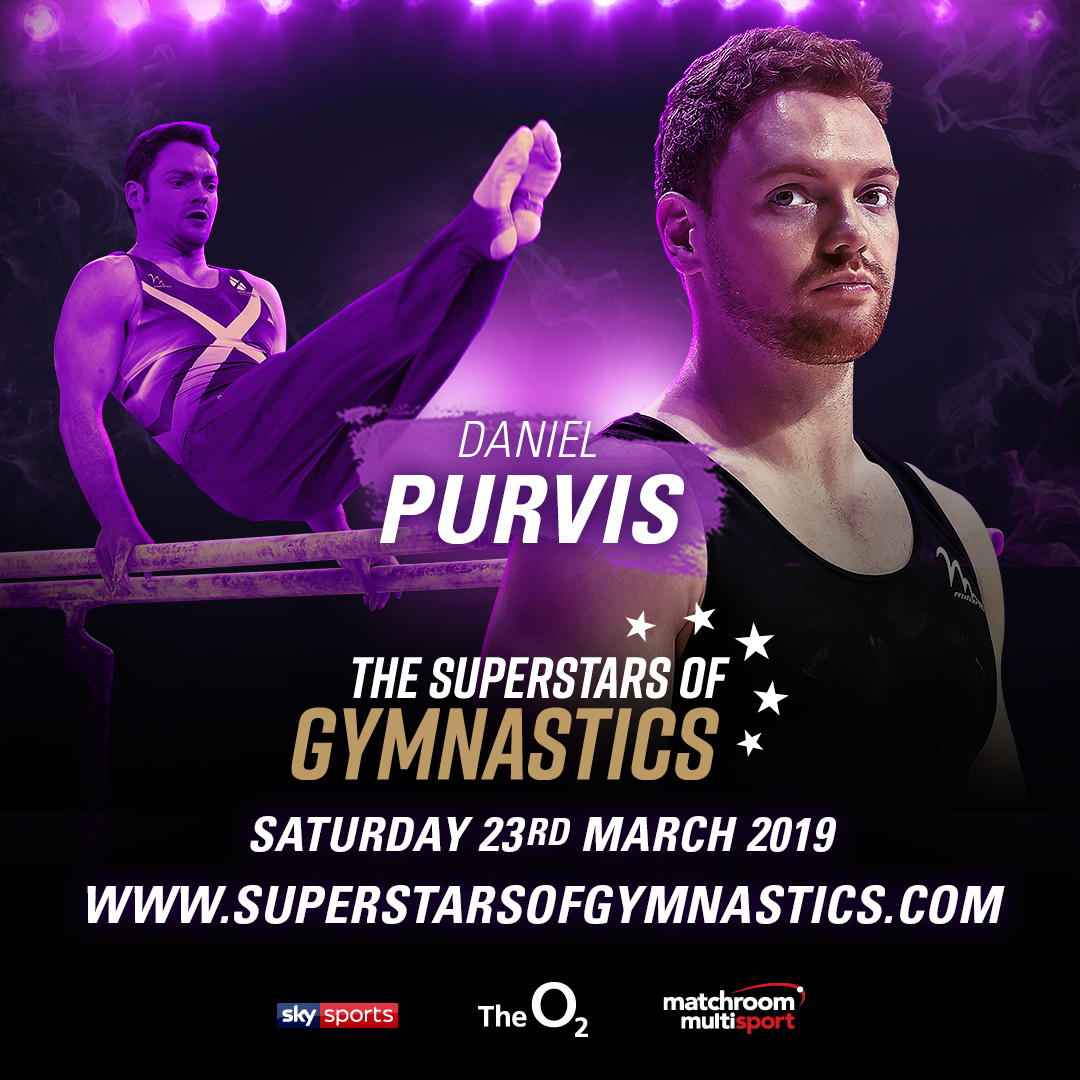 Purvis Joins Superstars of Gymnastics
Olympic and Commonwealth medallist Daniel Purvis has joined the line-up for the Superstars of Gymnastics, Matchroom Multi Sport is pleased to announce.
The Scottish gymnast will join Simone Biles, Max Whitlock and a host of other major names on Saturday, March 23 in an exhibition of the very best talent in gymnastics over two sessions at The O2, with tickets on sale now at www.superstarsofgymnastics.com.
Purvis won his first major medal when he took floor bronze in the 2010 World Championship. Two years later he scooped gold in the team event at the European Championships before earning team bronze at the London Olympics in a squad that also featured fellow Superstars of Gymnastics stars Whitlock and Sam Oldham.
As well as his Olympic and two World medals, Purvis has won multiple Commonwealth and European medals including Parallel Bars gold at Glasgow 2014, making him one of Britain's most successful gymnasts.
"The Superstars of Gymnastics is going to be an incredible day and I am thrilled to be a part of it," said Purvis. "It will be great to be back at The O2 with Max and Sam – I have special memories of being on the team with them that won Olympic bronze in 2012.
"As gymnasts we've got complete freedom to perform any routine we like at the Superstars of Gymnastics and I'm excited to start putting together my performances for March 23. It will be a great day out and I look forward to seeing you there."
Matchroom Multi Sport CCO Emily Frazer added: "Danny has certainly racked up the medal count for Great Britain and for Scotland and we are thrilled to have him join our Superstar line up next year!
"He is an adored favourite amongst the Scottish fans and we hope to welcome them to The O2 in March.
"The event is vastly becoming a global and international showcase so it is great to also have such a strong presence from the Great Britain boys! We look forward to seeing what they bring to the event."
Earlier this month it was announced that two-time Olympic gold medallist Aliya Mustafina of Russia and Germany's Fabian Hambüchen, a gold medallist on horizontal bars at Rio 2016 had joined the Superstars of Gymnastics line-up alongside Englishmen Courtney Tulloch and Sam Oldham.
Tickets are on sale now via www.superstarsofgymnastics.com priced from £30 per session for adults with under-16s at half price. Discounted all-day tickets offering admission to both sessions are available from £48 per adult with family tickets (two adults and up to two children) available from £65 per session or £100 for an all-day ticket.
---